One of the newest superfoods available is sea moss. It has been around for thousands of years. And since it contains lots of vitamins, minerals, antioxidants, and omega fatty acids, it is easy to see why so many people are interested in adding it to their diet. However, quite a few people are wondering how to eat sea moss? Is it as simple as popping a pill? It can be, but you can find sea moss in gel form too. That does lead those same people to ask how to eat sea moss gel. So, today, I am going to answer both those questions. This will ensure you won't have any doubt about how to consume sea moss once you have decided to add it to your diet.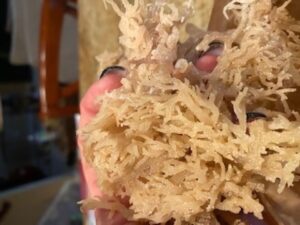 One of the easiest ways to incorporate sea moss into your diet is by swallowing a capsule every day. This option takes no time at all. And you get all the benefits of this superfood.
Now, if you want to actually add sea moss to the foods you eat every day, you can use sea moss gel. This is a delicious and healthy option if you love making smoothies. You can add sea moss gel to ice cream, sauces, and so much more. And if you are short on time, simply eat your sea moss gel by the spoonful. There are plenty of yummy flavors of sea moss gel to try.
Best Ways to Use Sea Moss Gel
Add Sea Moss Gel to Your Smoothies
Sea moss does have a distinct taste. Thankfully, that taste doesn't exist once you add it to a smoothie. All you will taste is the fruits and vegetables you use in your drink. So, if you are searching for how to eat sea moss gel, this is an easy and delicious answer.
Here is our favorite sea moss smoothie. It is quick and easy to make.
Don't stick with our favorite smoothie though. Create your own by using your favorite fruits and vegetables. You can even add in a little cacao if you are craving a little chocolate one day.
Use Sea Moss Gel as a Thickening Agent
Sea moss gel works quite well when you add it to sauces, soups, stews, and even ice cream. Since it acts as a thickening agent, you can add it to many of your favorite recipes. No one will even be aware of how much healthier those dishes are, because they won't be able to detect the sea moss gel. Your dish will taste the same as always!
Jam is another item you can make using sea moss gel. If you love canning, or simply want to make a single jar of jam, add a little gel for some extra nutrients. The best part is you won't need to use as much pectin, because sea moss gel is a natural thickening agent.
Sip on a Jamaican Irish Moss Drink
Okay, so sipping on a Jamaican Irish moss drink is not exactly a way to eat sea moss gel. But it will allow you to get your daily dose of sea moss for the day. This drink is sweet and spicy. You can serve it warm or cold. A little rum can be poured in on those days when you desire a little extra something.
To make this drink, you will need the following ingredients:
1/3 cup sea moss gel
1 ½ cup almond milk
3 tablespoons coconut cream
1 ½ tablespoons agave syrup
2 tablespoons maple syrup
½ teaspoon cinnamon
1 teaspoon vanilla extract
1/8 teaspoon nutmeg
Place all the ingredients into a blender. Blend until nice and smooth. You can add extra almond milk if it is too thick for you.
If you want to enjoy this drink warm, simply pour the mixture into a saucepan. Warm it over medium heat before pouring into a cup.
Indulge in Sea Moss Chocolate Bark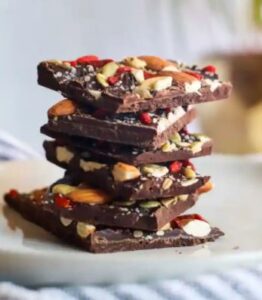 You won't need to feel guilty while eating dessert when you decide to make this sea moss chocolate bark. Many of the people wondering how to eat sea moss gel were thrilled when they learned they could make something that tasted this delicious!
I do recommend making a double batch of this. If you don't, there won't be any left when you go to grab some the following day.
You shouldn't have any difficulty finding sea moss gel. However, if you want to make a flavor that you cannot find or want to see how easy it is to make, you can do it at home.
Begin by placing dried sea moss into a bowl and completely covering it with water. Let the sea moss soak for twenty-four hours. It is best to leave it on the counter, so it is at room temperature.
Rinse the sea moss thoroughly and then place it in a blender. For every one cup of sea moss you place in the blender, add one and a half cups of water. Then add any herbs or fruits to the blender.
Blend all the ingredients thoroughly. You can then store your homemade sea moss gel in a sealed container in the refrigerator for up to four weeks.
You may also freeze your sea moss gel for up to four months.
Health Benefits of Sea Moss
Okay, so I already mentioned how you can benefit from all the vitamins, minerals, and other items sea moss contains. Sea moss also contains iodine. That can help support your thyroid function.
Other main benefits of eating sea moss include reduction in inflammation, improvement of digestive health, and improved respiratory health.
With all these amazing health benefits, it is no wonder why so many people are learning how to eat sea moss. Everyone seems to want to incorporate this superfood into their diets. Thankfully, learning how to eat sea moss gel is simple. All you need to do is add this superfood to recipes you are already making. Then enjoy the same great-tasting dishes that are now filled with the nutrients your body needs